Teaming up with our in-house water specialist, James Layton, I have conducted a thorough review of all the UV water purifiers on the market to determine which ones are actually worth your money.
Together, we poured over user manuals, reached out to customers, manufacturers, and our own industry contacts, and even got our hands on some of the leading products to test them ourselves.
I did this work to help you but also for myself. I have two kids, and I hate the idea of them drinking dirty water. I knew a UV purifier would give me peace of mind, so I went out and did a massive search for the best of the best.
Finally, after a little more than a month, I narrowed our initial list of 20 products to just seven. Of these seven, five products standing out as the true best of the best.
Spoiler Alert: Here's Our #1 Pick
The SpringWell UV Water Filter System is our pick for the best overall UV water purifier. It packs all the UV power you need and comes with some unique add-ons to help extend the unit's life.
It also has the best warranty on the market and is compact enough to fit pretty much anywhere.
Best UV Water Purifiers: Our Top Picks
Factors We Consider: Expert Reviews From Real World Experts
To write this review, I followed Drinking Water's rigorous seven-point research methodology.
I began with a use analysis to filter out products that weren't up to standard and continued with a tech check, water test data reviews, warranty and customer service tests, and more.
You can read all about how we tested and rated these products if you'd like to get behind the scenes of this review.
In addition, if you're new to the UV water purifier world, I suggest reading our "before you buy" guide and then coming back to the product recommendations.
Best Overall UV Water Purifier
SpringWell UV Water Filter System
The SpringWell UV Water Purification System is the best UV water purifier I could find. The lamp technology is similar to what you find with other products, but the option to add sensors and temperature control devices makes it unique. Warranties on UV filters are usually limited, but SpringWell's definitely beats the competition.
Highlights include:
Who it's for
The SpringWell UV Water Purification System is for pretty much anyone who wants to add a UV purifier to their water treatment system. It works equally as well for city water and well water, and it features a compact design that should easily integrate into your larger water filter system.
Why it's the best
The SpringWell UV Water Purification System is guaranteed to kill any and all living things inside your water, making it clean and safe to drink from any tap in your home.
This is the UV purifer I wound up putting in my house. It not only works great but it's built by a company I know can be trusted, giving me the peace of mind that this was what was truly best for my family.
However, its ability to purify water is not really what sets this product apart. After all, UV light is UV light — it's hard to mess up what it can do.
Instead, the added features are what makes it cool.
The first is the high-tech controller head. It has some neat functions, such as QR code integration. When there is an issue or your system needs maintenance, you can scan the code with your phone to access specific pages on the manufacturer's website for support.
The controller head also comes with an "expandability" port that allows you to plug in a UV sensor. These tell you the exact intensity of the UV light and alert you of any drops in performance. What's extra nice about this is that the sensor is external to the unit. When it fails, you can replace just the sensor and not the entire unit.
It also allows you to continuously upgrade your sensor as technology improves, without having to buy a new unit.
The controller head will also remind you when you need to replace the UV lamp (usually once a year). It starts counting down from the moment you plug it in, but a week before it's time, it starts chirping so you don't forget.
Since UV lights run continuously, even when the water is not flowing, temperature can be an issue. The lamp itself can get hot (a problem in small spaces), and so can the water in the lines (an issue if you are away and aren't running water).
To protect your system, SpringWell offers a fan to cool the lamps and other electronics, as well as a temperature relief valve that will automatically drain the warmer water to let some cooler water in. These are extra, but no other company offers this type of customization.
SpringWell offers a lifetime warranty on tanks, valves, and fittings. This lifetime warranty extends to all SpringWell products, except UV units. For these, stainless steel reactors are covered for 10 years, and electronics, including the controller head ballasts, are covered for three. The lamp and sensors are covered for one year.
The overall build quality on the unit is exceptional. I've spoken with the head of product development at SpringWell, and the company really goes above and beyond when sourcing the components for its products, all of which are made here in the US. Most other companies are out for the cheapest options to maximize profits, but not the folks at SpringWell.
The different warranty on this product has more to do with the fickle nature of UV purifiers than the quality of the product.
Some things to keep in mind
The UV lamp in the SpringWell UV Water Purification System is slightly less energy efficient than the competition.
It runs around the clock and requires 62 watts. That translates to around 1.488 kilowatt hours (kWh) per day, or 543.12 kWh per year. Using the national average of $.23 per kWh (at the time of writing), that's $124.90 per year to run this UV filter.
Other models I reviewed use around 50 kWh, which comes out to $100.74 per year. Not a huge savings, but something to consider.
Compared to similar products, SpringWell's UV purifier is a bit more expensive. I spoke to someone at the company about this and it all comes down to the materials they use. SpringWell has a high standard for suppliers, and this can drive prices up. In the end, you get what you pay for.
The other issue to keep in mind about SpringWell's UV purifier is that its warranty is nothing like the one offered on its other products. The big issue is that there are a number of water quality requirements you must meet for the warranty to stay intact. For example, iron can't exceed 3 ppm and manganese can't go above .5 ppm. You also need less than 7 grains per gallon of water hardness.
Basically, it's only covered if you use it as the final stage of a multistage filtration/treatment system that includes a softener. A big reason for this is the sensitivity of these UV units; they can be damaged fairly easily if you subject them to untreated water.
If you have any of these issues, or are interested in whole-house filtration, check out my review of the best whole-house water filters to learn how to treat your particular water supply. If all you need is a sediment filter, SpringWell has a great canister option.
Final thoughts
The SpringWell UV Water Purification System is the best on the market because it's highly effective against all microbial contaminants, is well built, uses a high-tech controller to make maintenance easy, and offers a number of exciting add-ons that help you build a comprehensive and future-proof unit.
If you're ready for the best UV water purifier out there, get the SpringWell UV Water Purification System today.
Best Budget UV Purifier
I've picked two units as my best budget UV purifiers: the US Water Systems Pulsar and the Crystal Quest Ultraviolet Water Sterilizer System.
The Crystal Quest unit is cheaper, while the Pulsar functions a bit better.
Here's more on each:
US Water Systems Pulsar UV Disinfection System
The US Water Systems Pulsar is an excellent UV water purifier that will give you 99.99% microbe-free water while using slightly less energy and costing you less up front. It's almost identical to the SpringWell unit, but it has a larger chamber and takes up more space.
Highlights include:
Who it's for
The US Water Systems Pulsar is for you if you want a unit that is nearly identical to the SpringWell system at a slightly lower price point. The main difference is that the Pulsar is a larger chamber (36″ versus 20″) so it will take up more space, and US Water Systems' customer service is good but not great.
Why it's the best
The US Water Systems Pulsar is the best budget UV water purifier because it provides excellent performance, has the same add-on features (fan and warm water drain) available with the SpringWell, and costs slightly less. It also features the same high-tech controller that allows you to externally add a sensor.
In fact, both SpringWell and US Water Systems use the same OEM to build their products, which makes them hard to differentiate.
One difference is that the Pulsar comes in three models based on flow rate: 10 gallons per minute (gpm), 15 gpm, and 20 gpm. For the vast majority of people (three bathrooms or fewer), 10 gpm is more than enough, and this helps make the Pulsar even more affordable. To give you an idea, showers are capped at 2.5 gpm, so even if you had three running at once you'd still be fine with the 10 gpm unit.
But if you have a very large home (7+ bathrooms) or are looking to add a UV purifier to a multi-unit rental or commercial property, US Water Systems has a product for you.
Additionally, the Pulsar is slightly cheaper to run than the SpringWell. Based on its 50-watt power requirement, you can expect to spend around $100 per year on electricity for this unit, as compared to $125 with the SpringWell.
Some things to keep in mind
One issue I had with the US Water Systems Pulsar is that the company doesn't seem as concerned with pre-filtration as SpringWell. They mention that it's "optional," but this is a bit misleading. Pre-filtration is essential if you want your UV purifier to do the best job possible. And if you dig into the details of the warranty, you can see that if you don't properly filter and even soften your water before it gets to the UV chamber, you will likely void its warranty.
Again, this unit is best used as the final stage of a larger whole-house water filtration system.
However, the biggest issue with the US Water Systems is the size of the chamber. While this unit is very similar to the one offered by SpringWell, it is a bit older and comes with a 36" chamber as compared to 20" on SpringWell.
This means the Pulsar takes up an additional 1′ 4″ more of your precious space. If you live in a large home, this might not be an issue. But it could be a deal breaker for some. I personally like the smaller, more compact design from SpringWell.
Another knock against the Pulsar is customer service. For example, to test things out, I initiated a chat on the US Water Systems website and encountered a bot that couldn't really answer my question. It wasn't until I insisted several times to speak with someone directly that I got a real person.
At SpringWell, I had someone on the other side of the chat in less than one minute.
Final thoughts
The US Water Systems Pulsar UV purifier is an excellent UV water purifier at a more affordable price than the SpringWell system. It's an older model with a larger chamber that will take up more space, but it works great. It's got a solid warranty, but US Water Systems has only adequate customer service.
It's an excellent budget option that will help make your home's water clean and safe.
If you want a budget UV purifier, get the US Water Systems Pulsar today.
Crystal Quest Ultraviolet Water Sterilizer System
The Crystal Quest UV Sterilizer system is a great budget UV sterilizer if you want to save even more than you would with the Pulsar. But the cost savings come from some missing features and a skimpy warranty.
Highlights include:
Who it's for
The Crystal Quest UV sterilizer is for you if you want to add on a UV water purifier to your filtration system while spending the least amount of money and still getting something decent. It's perfect if you don't mind that it has fewer features and a less-than-stellar warranty.
This model is good for three to four bathrooms, but if you have two or fewer bathrooms, there is a smaller option that is the cheapest but best UV purifier you can find.
Why it's the best
The Crystal Quest UV sterilizer made it into my "best budget" category because its perfectly effective and is priced too reasonably to ignore.
It will kill 99.99% of all bacteria, viruses, parasites, and other harmful living organisms that can become present in your water for a number of reasons.
Replacement bulbs, which you need to buy once a year, are also cheaper when you buy them from Crystal Quest, which reduces the total cost of ownership for this unit.
Crystal Quest also offers an 8 gpm UV sterilizer, which is even smaller and will save you even more money if you have just two bathrooms in your home.
Some things to keep in mind
While the Crystal Quest UV Sterilizer looks more affordable than other options, you will probably understand why when you first open the package. The components are of noticeably lower quality than those of my top choices.
One area where the Crystal Quest UV Sterilizer really falls short is its controller head. Whereas the SpringWell model counts down the life of the UV lamp and has several other alert settings to let you know what's going on, the Crystal Quest UV Sterilizer has two LED lights, one that says "Work" and another that says "Not Working."
This is helpful, but it doesn't tell you what's wrong. It could be an issue with the ballast, the lamp, or both. No matter what, you'll need to figure it out yourself, and the user manual doesn't offer any additional guidance.
The UV lamp also runs all the time, but there are no cooling options like those you'll find with SpringWell, which could be an issue if you want to store the purifier in a small space.
It's also 40″ long, making it the largest unit on my list. Not an issue if you have the space, but it could be for those in smaller homes.
As far as a warranty goes, there's nothing for the UV bulbs. This is standard. They only last one year, and no one offers a warranty on them. However, Crystal Quest's standard warranty for all its products is one year. Warranties tend to be shorter on UV purifiers, but this one is particularly weak.
Final thoughts
If you're working with a tight budget but still want effective filtration and you don't mind gambling on the less-convincing warranty, the Crystal Quest UV sterilizer presents a reasonable option for households with two to three bathrooms. It kills 99.99% of bacteria and viruses in your water and replacement bulbs are affordable and easy to order from the site.
For UV purification at a discounted rate, get the Crystal Quest UV sterilizer here.
Best Single-Faucet UV System (for RVs, Campers, and Boats)
Acuva ArrowMAX 2.0 UV Purification System
The Acuva ArrowMAX 2.0 UV Purification System is an excellent point-of-use UV purification system that can be installed under the sink and in small places to deliver microbe-free water to a dedicated faucet.
Highlights include:
Who it's for
The Acuva ArrowMAX 2.0 is for you if you want UV-purified water at just one faucet and also want the most compact unit money can buy. It's particularly useful if you own a boat, RV, or camper.
It will work just great in your home if you are looking to save space. You could also install it in outbuildings on your property that are not connected to your main water supply.
Why it's the best
The biggest upside of the Acuva ArrowMAX 2.0 is its size. At just 19x10x4 inches, it's a compact unit designed to be mounted against the back wall of your under-sink cabinet.
It also comes with an advanced pre-filter that can filter out sediment particles of nearly all sizes, including lead.
The UV light inside this unit is LED powered. This will give it extra life without sacrificing bug-zapping ability. It's rated for 1,000 hours, and as an on-demand bulb, it's only activated when you turn the faucet on. How long it will last depends on usage, but you should be able to get much more than a year, the standard for regular bulbs.
If you want, you can buy just the UV and pre-filter and attach the supply lines to your existing faucet. For a little extra money ($50 at the time of writing), you can get the additional smart faucet. This is a separate faucet that has a blue LED that activates when you turn the water on to let you know the UV light is working.
Because it only connects to one tap, it's significantly easier to install than a whole-house system. There's no pipe cutting necessary, and the unit comes with quick-connect hoses that pretty much anyone can hook to their existing water supply.
Some things to keep in mind
The biggest downside of the Acuva ArrowMAX 2.0 is its warranty, which is just one year. I didn't expect too much more from such a small, specialized unit. But many of the whole-house units I've reviewed go a good bit further.
Something else to keep in mind is that despite being so much smaller, it's actually not all that less expensive than some of the whole-house filters I reviewed, especially the budget options. If you're buying this for your home, I would recommend going with one of those products instead of this one.
Remember this UV purifier is not a whole-house UV filtration system. It will only deliver purified water to the faucet you attach it to.
This unit also has some environmental limitations. It cannot be stored in freezing temperatures.
Also, it can't operate when ambient humidity is above 70%. This is pretty humid, but many places experience this type of humidity regularly.
If you're going to use this unit on a boat, RV, or camper, you'll need to remember to winterize the unit when storing it in the cold and to keep it out of excessive humidity.
Lastly, max water temperature for this unit is 105 degrees.
Final thoughts
If you're looking for a single-faucet UV purifier that is compact and portable, perhaps for your RV, camper, or boat, then the Acuva ArrowMAX 2.0 is a fantastic option at a reasonable price point. It has some environmental limitations to keep in mind, and the warranty leaves a little to be desired.
Otherwise, it's an excellent product that will get the job done without taking up much space. You can get the Acuva ArrowMAX 2.0 here.
Best Portable UV Water Purifier
SteriPen Adventurer Opti
The SteriPen Adventurer Opti is my top pick for a portable UV water purifier. This handheld device is capable of filtering up to one liter at a time, so it's great for hiking, camping, or traveling to parts of the world where tap water is not safe. It's a bit pricey, but it's a great alternative to sanitizing tabs, filter straws, or iodine treatment.
Highlights include:
Who it's for
The SteriPen Adventurer Opti is for hikers, campers, backpackers, and travelers looking for an easy, reliable solution to water purification that doesn't impact taste.
Why it's the best
There are two things that set the SteriPen Adventurer Opti apart from the competition: speed of purification and the use of replaceable batteries.
To get water free from microbial contamination, all you have to do is swirl the UV light inside your water bottle for 48 seconds (1 liter) or 90 seconds (2 liters). A green LED light turns on to tell you when the purification is complete.
Powering it with replaceable batteries was also a clever design choice. A lot of competitors use rechargeable batteries. This seems more convenient at first, but if you're out in the wild, you might not have access to a power source to charge the battery. It's a lot easier to carry a few sets of CR123 batteries in your pack and swap them out when needed.
You can get around 100 activations on one set of batteries, which I tested. The first time I got 98, the second time 101, and the third time I got 97. To do this, I worked with one of our lab assistants. We simply turned the lamp on the lower setting, letting it run for its shorter 48-second cycle. When it was done, I ran it again, counting the activations.
In total it took around an hour and a half to run the battery down each time, but it was worth it to test. And while there was some slight variation, it activated pretty close to 100 times with each test. That's good enough in my book.
The LED light can also be used for a backup flashlight, though it's not very strong and turns off after three minutes.
I was encouraged by the three-year warranty. On small products such as this one, you usually don't see that kind of commitment.
Since it's a UV light, it doesn't change the taste of the water like sanitizing tablets do, and it doesn't change the color like iodine does. It's also a lot faster than a portable filter straw.
Some things to keep in mind
The biggest downside of the SteriPen Adventurer Opti is that it doesn't have a pre-filter. So, if you fill your water up from a stream and there's dirt in it, it will kill anything living but you'll still be drinking dirt. SteriPen does offer a filter, but it's a cap for your water bottle and isn't practical for pre-filtering.
This could be a problem because the more sediment there is in your water, the less effective the UV light is going to be. All that floating stuff will cast a shadow and can block the light from zapping microbes. If you use water with gunk in it, you need to filter it somehow. A coffee filter will do, or you can use a specific water filter for hiking.
A portable UV purifier such as the SteriPen is also naturally more expensive than some of these other treatment options, such as chlorine or iodine. But it does give you clean water without altering the taste.
Final thoughts
If you travel a lot to countries with unsafe tap water, go backcountry camping, or hike for days on end, the SteriPen Adventurer Opti is a great way to quickly and reliably purify water from microbial contaminants. It doesn't have any sort of pre-filter, and it's a bit more expensive than other treatment options, but it's got a long-lasting battery and won't affect the taste of the water.
If you want UV purification on-the-go, get the SteriPen Adventurer Opti here.
Honorable Mentions: Best UV Water Purifiers
Aquasana Rhino Well Water Filter With UV
If you're on a well system and you don't have a UV purification system already installed in your home, the Aquasana Rhino UV Filter may be what you're looking for. This system is more than just a UV filter, it's a full whole-house filtration system that will remove dirt, debris, chlorine, and more from your water.
The KDF media in stage two/three is effective against iron and sulfur, though only in lower quantities. If your well has a high concentration of these contaminants, this filter alone might not do the trick. Read my full review on the best whole-house filters for well water. If you are facing these issues, you can always add a UV filter later.
Once the water passes through all stages of filtration, it goes into the UV chamber where 99.99% of all microbial contaminants are zapped.
It's designed for wells, though you could use it on city water and it would work just fine. The activated carbon would remove any chlorine smells or tastes, and the pre-and post-filter should take care of any other contaminants before it passes through the UV filter. However, given how rare it is for microbes to make it into city water, it's probably not super practical.
Part of the issue with this product is the warranty. Aquasana gives you 90 days to try the product risk-free, which is great. The standard warranty is for five years, but that doesn't apply here.
First, the UV lamp is not covered, which is pretty standard. But when you read the fine print, you find that the pre- and post-filter housings are only covered for one year and so are the fittings. The only thing covered for five years is the main well filter.
This reflects the use of lower-quality materials in the fittings and housings. The manufacturer expects they might break or leak after one year and doesn't want to be held liable. Compared to SpringWell, which gives a warranty on these items for life, this is a bit of a joke.
As a complete system with a UV purifier, the Aquasana Rhino with UV is solid and will get the job done, and all together it's a pretty good price. But if you have specific issues with your water, it might not be adequate. I would consider other options on the list, but if this seems like the right product for you, get the Aquasana Rhino with UV here.
HQUA-TWS-12 UV Sterilizer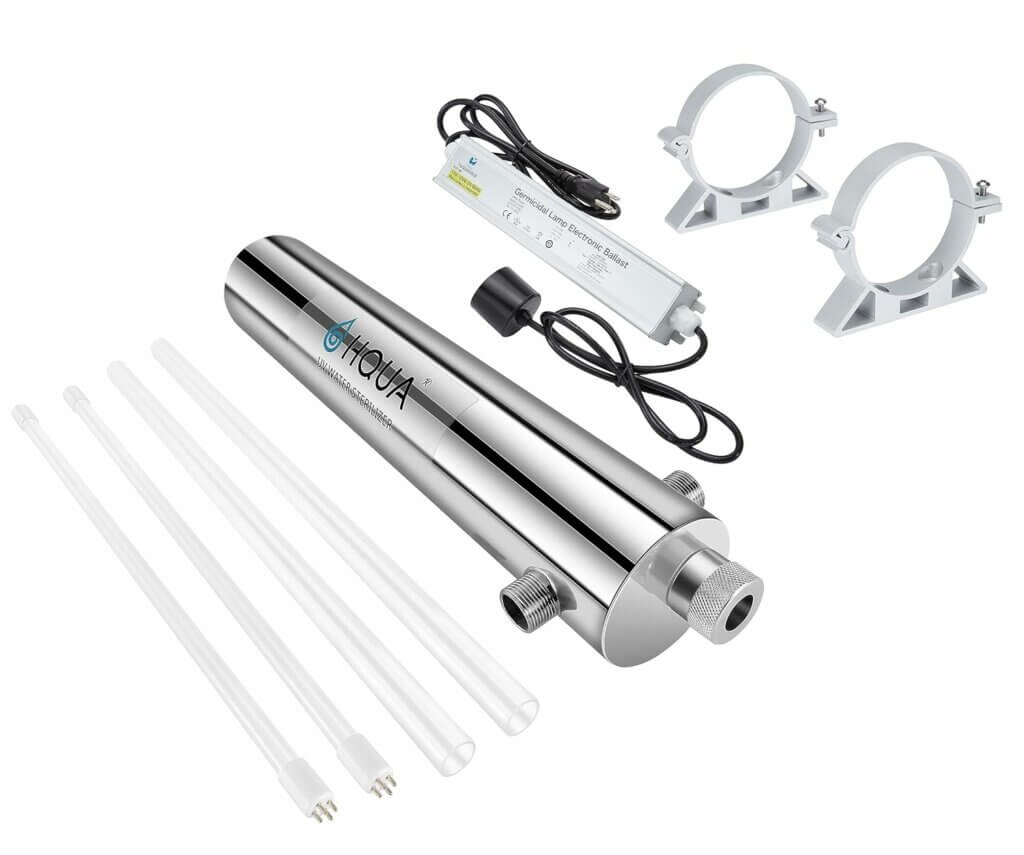 The HQUA UV sterilizer is a bare-bones option. In fact, it's probably one of the cheapest on the market. It's missing a lot of bells and whistles, but it does the job. For example, the only thing resembling a controller head is an LED light on the ballast. According to the website, "Green light on 'work' means everything alright." (Word for word.)
When it blinks red, there's a problem, usually with the ballast or the lamp. But you need to figure it out for yourself.
The product has no warranty, and customer service is practically nonexistent. There's a number you can call, but the team is located in China and has wacky hours. I sent a message asking a question and never heard back.
You can only buy this product through Amazon, and when you do you get a free quartz sleeve and UV light. Given this and how cheap it is, maybe the warranty doesn't matter. If it breaks, you can just buy a new one. It'll still be less than some of the other options on this list.
Look, I am a firm believer that you get what you pay for. But if you truly want a simple and inexpensive UV purifier for the lowest price possible, then check out the HQUA UV sterilizer.
The Bottom Line: Best UV Water Purifier
After 16 weeks of researching and reviewing, I can confidently say that the SpringWell UV Water Filter ticks all the right boxes for the best UV water purifier.
This unit is guaranteed to remove all kinds of disease-causing bacteria and viruses from your tap water, either from a private well or municipal supply. It's got an advanced controller head that will help you monitor the life of your system, and you can add some interesting extras to make the product work better and last even longer.
Other budget options exist, such as the US Water Systems Pulsar and the Crystal Quest Ultraviolet Water Sterilizer System. But the SpringWell model is the best of the best, and it's the one I would put in my home.
If you're ready for the power of UV purification, get the SpringWell UV Water Filter here.
Research Methodology: How We Test and Review Products
To create this list of the best UV purifiers, I followed Drinking Water's rigorous seven-point review methodology. It combines qualitative and quantitative analysis to objectively evaluate products and rate them based on a number of factors. By following this approach, I can narrow the list down over and over again until I am left with the best of the best.
You can read all about how we review water filters, but here's a little more on what goes into the analysis:
Use analysis
The review starts with a careful analysis of the best use case for each of the products on my initial list. Manufacturers try to position their products as highly capable, and sometimes that can lead them to overstate what a product can do. For a product to make it past the first stage, it needs to pass a test from our experts that verifies it is indeed the right type of filtration for the intended use.
Learn more about how we do our use analysis.
Tech check
After determining the appropriate use case, we dig into the technology behind the products we're reviewing. While many of the technologies are similar, there are always variations. Companies featuring new technologies like to use this to jack up prices but don't always explain what this increased cost gives the buyer. We check into all of this and more.
Learn more about the tech check portion of our review process.
Water test data
Water filter companies like to throw out numbers to show how effective and high-quality their products are. But we know that these numbers can sometimes be misleading or even inaccurate. For a product to make it through to the next round of our review process, we need to be able to verify the water test data supplied by the company to ensure their product is up to the task.
Learn more about how we collect and use water test data.
Installation test
Installation is a key moment in purchasing a water filter. A complex installation process can lead to frustration or higher-than-expected costs, and if you don't take everything into account, such as size, it can even affect the overall fit of the product. We spend a lot of time exploring the installation process and factor in this analysis in our overall review.
Learn more about how we run our installation tests.
Cost-of-ownership analysis
As homeowners ourselves, we understand the need to balance up-front and long-term costs. As we conduct our review, we take all these costs into account and use them to help narrow down our list to the top options. As we present products, we make it clear which is the most cost effective and when you can expect to have to bear those costs.
Learn more about how we conduct our cost-of-ownership analysis.
Warranty check
A warranty can save you in the event there is some sort of factory defect. But fine print and legalese make them hard to understand. We sift through all of this to fully understand each product's warranty and consider this as part of our review. Plus, a company with a good warranty is typically a better company.
Learn more about how we do our warranty checks.
Customer service test
Your relationship with a company does not end after you make your purchase. And considering the cost of water filtration products, we will never recommend a product until we've had the chance to vet their customer service operation.
Learn more about our customer service test.
Before You Buy a UV Water Purifier: Know the Limits of UV Filtration
UV water purifiers are a great addition to any water treatment system thanks to their effectiveness against microbial contaminants, also known as viruses, bacteria, and protozoa. If these nasty lifeforms make their way into your water, anyone who drinks from your tap is likely to become ill.
No matter if you are a city water user or a well owner, know that UV purifiers do nothing against hard water. In fact, many UV purifiers won't work as well with hard water supplies and warranties are often voided if you don't soften your water first.
UV purifiers tackle microbes from any water supply, but they have different limitations for city users and well owners.
UV purification and city water
Due to the seriousness of microbial contamination, city water supplies are treated with disinfection chemicals, such as chlorine or chloramine, to kill bacteria, viruses, and protozoa. The water that reaches your tap should be microbe-free.
But sometimes it's not. If a pipe breaks somewhere in the system, microbes can enter the water supply after it leaves the treatment facility and before it gets to your home.
Also, a power outage or natural disaster may prevent the treatment facility from operating correctly, and water with microbial contamination could reach your home. These are often called "boil water emergencies" because it becomes necessary to boil your water before drinking it to ensure its safety. If you have a functional UV water purifier, you don't need to boil your water.
A UV purifier provides peace of mind, ensuring the water that reaches your faucet is always free of microbial contamination.
However, UV purifiers will not handle many of the other possible contaminants in city water, such as chlorine, chloramine, disinfection by-products, VOCs, PFAs, heavy metals, nitrates, etc. If you're worried about these contaminants, you will want to add a UV purifier to a larger whole-house filtration system.
UV purification and well water
Well owners have to think a bit more about microbial contamination. Wells are sealed from the outside, which should keep them microbe-free, but these seals can break. The most common area is the cap, which is sometimes buried underground. If this happens, microbes can make their way into your well from the nearby soil, which will contaminate your well water supply.
According to Johnny Pujol, a water quality engineer with Tap Score and one of our trusted partners, "With well water there is no regulatory oversight, so it's up to each well user to ensure the water they are drinking is safe for their health. This means testing at least once a year because well water changes over time."
Adding a UV purifier to your water treatment system is an excellent way to guarantee it's free from microbial contamination. But it will not be effective against other common well water contaminants, such as sediment, sulfur, iron, manganese, herbicides, pesticides, and nitrates.
This is why we always recommend you test your water to determine the best filter for you. You can also check out our review of the best whole-house filters for well water to determine what else you need to add to your water filtration system.
Now that you know a bit more about the details of UV Water Purifiers, you can click the link below to go back to my recommendations to find one that works for you.
Back to product recommendations.
Dive Deeper: In-Depth Water Filter Guides
If you're just getting started in the wide world of water filtration, or you want to learn a bit more before you buy, here are some resources to help you out:
Frequently Asked Questions
Which is the best water purifier with UV?
The SpringWell UV Water Filtration System is the best water purifier with UV thanks to its superior build quality, advanced controller head, and optional add-ons that extend the overall life of the unit.
Are UV water purifiers worth it?
UV water purifiers are worth it if your water supply has microbial contamination or if you want protection against potential contamination resulting from a broken well cap or problems at your municipal water treatment facility. If you don't have microbial contamination or have other means of removing it, then a UV water purifier is probably not necessary.
Is UV water purification effective?
UV water purification is extremely effective at removing microbial contaminants, such as bacteria, viruses, and protozoa. It removes 99.99% of these harmful pathogens from your water supply. It is not effective against any other type of water contaminant, including sediment, heavy metals, chlorine, chloramines, VOCs, and PFAs.
What are the disadvantages of UV in a water purifier?
The main disadvantage of a UV water purifier is that UV lamps only last for about a year before they need to be replaced. Also, UV lamps give off heat, which can warm your water if it sits in your pipes and can also heat up the area in which it is installed if you don't have proper ventilation.
Is a UV water purifier better than RO?
A UV water purifier is different from RO, also known as reverse osmosis.
A UV purifier kills 99.99% of microbial contaminants. RO does not kill anything but rather removes contaminants by separating water into clean and dirty supplies using a thin membrane with super small pores. It can remove microbial contaminants but also tackles sediment, iron, lead, arsenic, nitrates, and more, which UV does not.